"It's easier to build the boy than fix the man." – Lord Robert Baden-Powell, founder of the Scouting Movement.
A little Bit About our Troop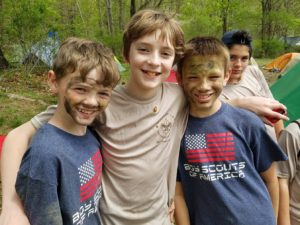 Since 1955, Troop 200 has been part of the community.  We continue the tradition of being an active troop that adheres to the principles of the Scout Oath and the Scout Law.  We like adventure.  We like having fun.  We like to try new things.  As a troop, we go on monthly outings (e.g. hiking, camping), are involved in community service and so much more…all of this helps develop us into the next generation of leaders.  Along the way, the dedicated adult leaders of Troop 200 provide guidance while supporting individuality, building self-esteem and leadership skills.
Interested in Joining Troop 200?
Come and check us out.  We meet every Monday (unless it's a holiday!) during the school year at Immaculate Conception Church.  And, we stay connected during the summer via hiking, camping, etc.  We plan on having several recruiting events in the coming months and hope to see you there!
5 Things you Should Know about Troop 200
Troop 200 is boy-run. We build leadership skills from the very beginning.  The scouts assume leadership roles to run the Troop, with adult guidance and supervision.  They also decide what the troop does!
Our troop is made up of scouts from all over northern Hunterdon County including:  Annandale, Clinton, Lebanon, Pittstown, Clinton Township, Franklin Township, Bethlehem Township and beyond.
We're open to all boys ages 11 – 17…no prior scouting experience is required!
Our Scouting Program is designed to be FUN while also building character, personal fitness, and citizenship.  (boiled down, we like adventure and trying new things!)
We do a lot of GREAT things!  There's something for everyone and everyone has a voice in what we do.  Check out the blog and photo gallery section in the navigation bar for a glimpse of what the troop is like!