Troop 200 is an active troop adhering to the principles of the Scout Oath and the Scout Law.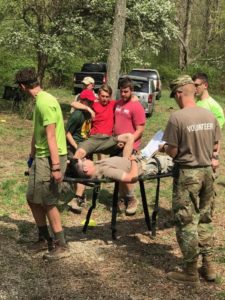 Scouting provides a well-charted map for helping boys become better men, and Troop 200 provides a proven path where boys can advance in rank – and in life skills – to become the leaders of tomorrow. Through scouting they will perfect their Scouting skills in citizenship, responsibility, respect and reverence each day.
With special emphasis on monthly outings, the dedicated adult leaders of Troop 200 provide an enjoyable and fun-filled outdoor experience within which they nurture each Scout's development by supporting individuality, self-esteem, cooperation and community service.
Troop 200 . . . driven from within!
"It's easier to build the boy than fix the man." – Lord Robert Baden-Powell, founder of the Scouting Movement.