All Scouts in Troop 200 wear the same black neckerchief with red trim. This is to identify the Scouts as a common group but the neckerchief also has some historical significance.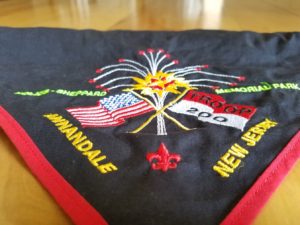 Our troop was previously chartered by Lebanon Reformed Church.  Every 4th of July, Lebanon holds a big parade down Main Street, ending at Holjes-Sheppard Park. Thus the exploding fireworks on our neckerchief.
Even though we are now in Annandale, NJ at Immaculate Conception, we wanted to keep our neckerchiefs the same for a more important reason. On our neckerchief are the names Holjes and Sheppard: two Troop 200 Scouts who were killed in action during the Vietnam War.  Every May we retire worn U.S. flags at the park. We invite members of the community, veterans and the general public to join us.  Below is more information on the lives of these two local heroes.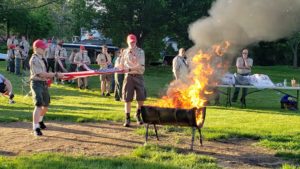 Frederick Y. Holjes was born February 10, 1945 and lived in Lebanon, NJ. He was a 1963 graduate of North Hunterdon Regional High School where he enjoyed and participated in civil  and revolutionary war reenactments, played his grandfather's banjo and collected antique rifles. He received a full scholarship to the Citadel, a military school in Charleston, South Carolina, where he was an outstanding student.
Holjes served in the US Army as a Second Lieutenant (2LT). He was a 23-year old Ranger with the 101st Army Airborne Division. He was wounded by sniper fire on February 19, 1968 and was hospitalized in Japan. He was given the chance to go home, but chose to return to his troops.
In March 1968, Holjes led his troops into battle. While scouting the area ahead, he was shot in the head and died instantly. He died on March 22, 1968 at the age of 23, two days after he had been reactivated.
Holjes was awarded two Bronze Stars and the Purple Heart.
Robert Porter Sheppard was born October 1, 1947 and lived in Lebanon, NJ. Robert enjoyed camping and was active in church work. He was very much an outdoorsman. He was Troop 200's very first Eagle Scout.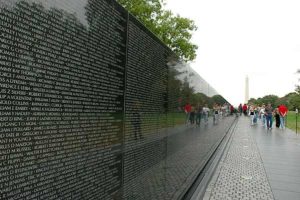 Like many of our scouts, Robert graduated North Hunterdon High School where he enjoyed fencing and was a member of the woodsmen team. Furthering his education, he enrolled in Paul Smith's College in the Adirondacks and the Lake Placid School for Forestry with hopes of becoming a recreational forester.
Robert entered the US Army where he attained the rank of Warrant Officer (WO). In 1970, Sheppard went to Vietnam as a helicopter pilot. He was chosen, along with twelve others for a flyby, i.e., when helicopters fly around in a circle formation almost nose to nose.
On May 7, 1970, Sheppard was killed when his helicopter crashed in a combat zone. He was 22 years old.
Let us not forget those Scouts, like Fred and Robert, who gave the ultimate sacrifice for their country. May the honor and remembrance we give them help propel future generations of Scouts to live the Scout Oath and Law.