Movie/Hobo Campout
Event Navigation
Please join us for our annual Movie and Hobo camp-out.  This is a great event for Webelos and Arrow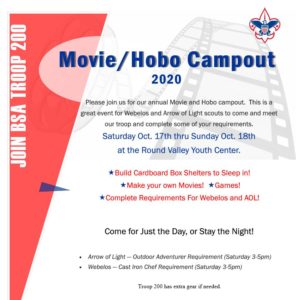 of Light scouts to come and meet our scouts and complete a few requirements.
Build cardboard box shelters to sleep in!
Make your own movies!
Complete requirements for Outdoor Adventurer and/or Cast Iron Chef
Play games and spend time outdoors
Come for the day or camp over night – we have extra gear if needed!  Troop 200 Hobo and Movie Camp-out 2020.